OWHC-AP World Heritage Cities Photo Contest 2020
Date : 2020-07-06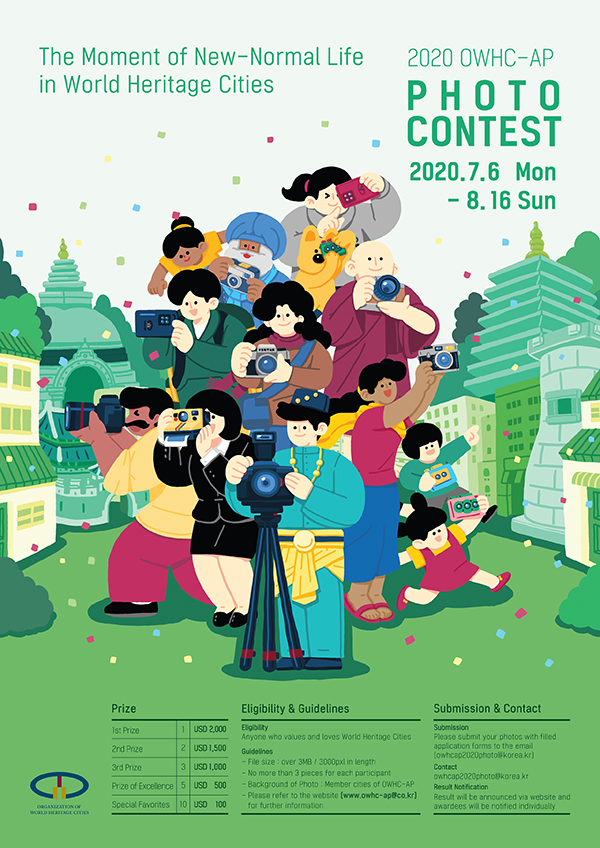 OWHC-AP World Heritage Cities Photo Contest 2020
OWHC-AP reaches to the harmonious coexistence of people and World Heritage.
Take a picture of people living with UNESCO World Heritage or capture the moments of life in World Heritage Cities in the Asia-Pacific Region and join us! Please refer detailed information through the attached information file.
Eligibility: Everyone who loves World Heritage Cities
Theme: The Moment of New-Normal Life in World Heritage Cities
Application Deadline: August 16, 2020
Result Notification: August 31, 2020 (Could be altered)
▪ The result will be announced on the official OWHC-AP channels: Official website, Facebook and Instagram, and will be informed individually to the awardees.
- Website : http://owhc-ap.co.kr
- Facebook : owhc-ap, Instagram : owhc_ap
Guidelines:
1. File size must be over 3MB and over 3500 pixel of the length
2. Format must be JPEG or TIFF.
3. NO more than 3 pieces per person.
4. Background of photo should be one of member cities of OWHC-AP
(Please Refer to the list of member cities of OWHC-AP on website)
5. Download the application from the official website (http://www.owhc-ap.co.kr) or
Facebook (owhc-ap) and send the completed form with submitting photo files to owhcap2020photo@korea.kr
Award and Prize
* 1st Prize (1), 2,000 USD
* 2nd Prize (1), 1,500 USD
* 3rd Prize (3) 1,000 USD
* Prize of Excellence (5), 500 USD
* Special Favorites (10), 100 USD
Notices
- If the work of a winner is plagiarized or has received an award from another contest, the prize will be forfeited.
- Any legal issues concerning portrait rights or copyrights violations arising from the contest are solely the legal responsibility of the contestant.
- Penalties derived by inaccurate information written on the application form are the sole responsibility of the contestant
- OWHC-AP is given the copyrights and ownership regarding the award-winning pieces and they can be utilized for OWHC-AP's promotional and commercial use.
- Photo Contest inquiries are only available via email (owhcap2020photo@korea.kr) and its reply contact will be made through the contact number from each contestant's application form.
- All taxes and transaction fees for the awards shall be burdened by the recipient.
- All submitted works to the Photo Contest will not be returned to the participant.
Contact : owhcap2020photo@korea.kr